The Interior Collection
Created by Cork-based artist Geraldine O'Riordan, this exhibition is ideal for people interested in the intersection of art, history, and interiors. 
The exhibition came about as a result of my interest in the interiors of Ireland's historic houses. These were the homes of the landed gentry, usually built in the 18th and 19th centuries, on large estates. Each has a unique place in our cultural and social history. My paintings are personal interpretations of these buildings, their contents, and the information I have gathered from their owners.
Historical Colour Palettes Inspired by the Period Houses of Ireland
Geraldine has kindly created bespoke colour palettes for Pat McDonnell Paints based on "The Interior Collection." These palettes take inspiration from the classic colours of historic homes across Ireland. She has also provided commentary on the thought process behind her paintings as well as some fascinating insights on how she put the palettes together. 
These palettes are ideal if you are looking to paint a period house in authentic colours or simply want to lend an air of Georgian sophistication to your home. They also excellently showcase the broad range of colours available as part of the Ralston range. All of these shades are available in Ralston Siloxane Matt - a highly breathable paint which works beautifully on historical buildings.  
Boudoir at Doneraile Court – Co. Cork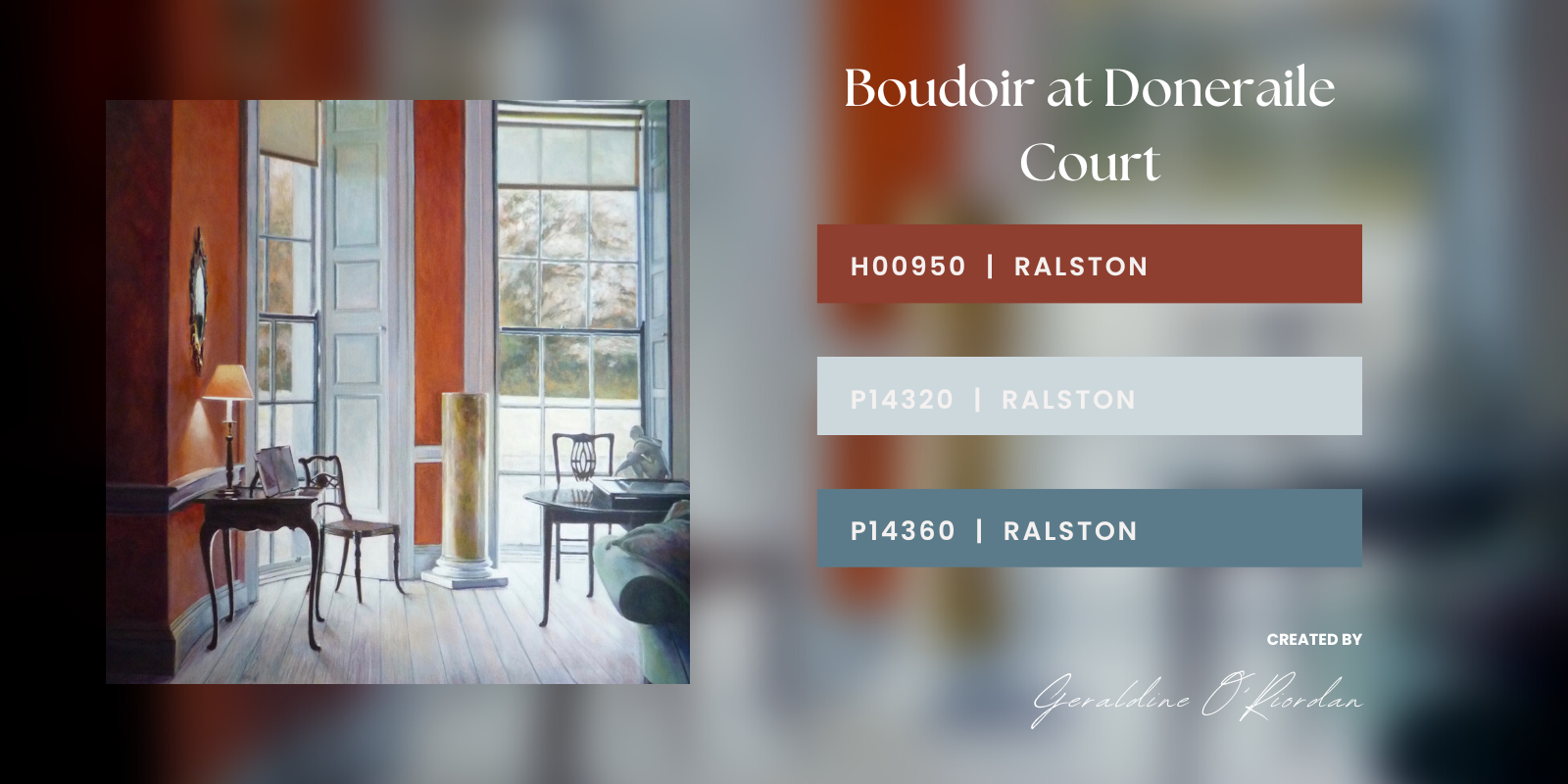 "Doneraile Court is one of the finest Georgian Houses in Munster. Built in the late 17th Century, it was originally home to the St. Leger family.
In the 1970s it was saved from serious dereliction as a result of Desmond Guinness' intervention in the early days of the Irish Georgian Society's establishment. Recently it has been restored by the Office of Public Works (OPW) and is now open to visitors from spring to early autumn.
The Boudoir captures the magnificence of a fine Georgian interior. My painting is essentially about the wonderful, curved windows and the uplifting ambience that they create. These windows are floor-to-ceiling and connect us to the garden and parklands beyond, while infusing the interior with an ethereal ambience.
I delighted in recreating the burnt orange walls and the various surfaces such as the wood and marble. It entailed layering of glazes in order to build luminosity and depth in the painting."
Featured Colours:
🎨 Ralston H00950
🎨 Ralston P14320
🎨 Ralston P14360
China Cabinet at Annaghmakerrig House, Co. Monaghan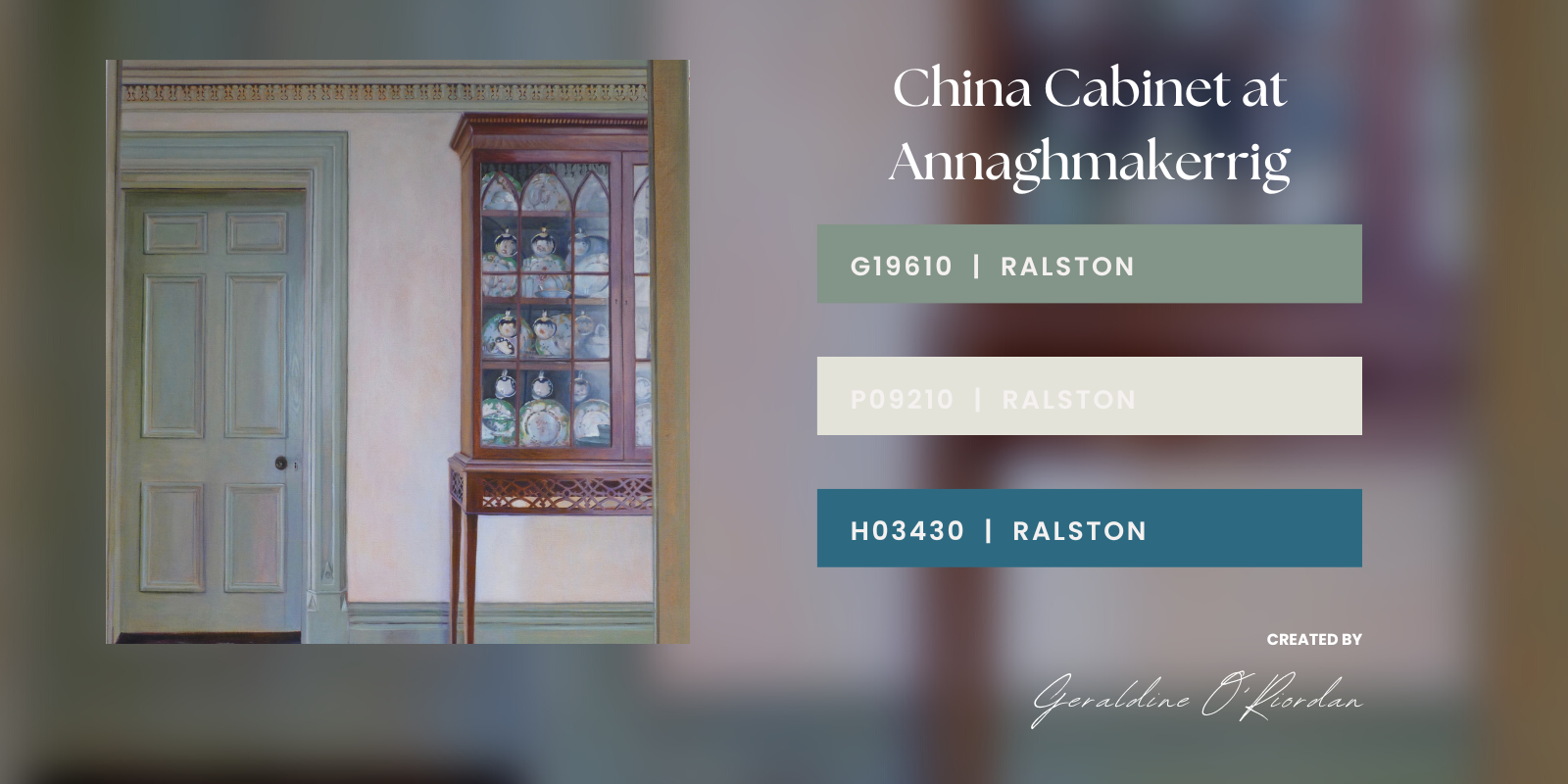 "The original Annaghmakerrig house was built in 1805 and we can still see its Georgian influences throughout. For example, in the symmetrical layout of the hall and reception rooms.
My painting references the beautiful plaster coving, timber joinery and pitch pine floor. All are a testament to the local craftspeople that were involved in this building back in the 1860s.
The Ralston colours are inspired by this view. It is quite minimalistic allowing the interior craftsmanship and cabinet contents to take centre stage."
Featured Colours:
🎨 Ralston G19610
🎨 Ralston P09210
🎨 Ralston H03430
Pea Green – Private Home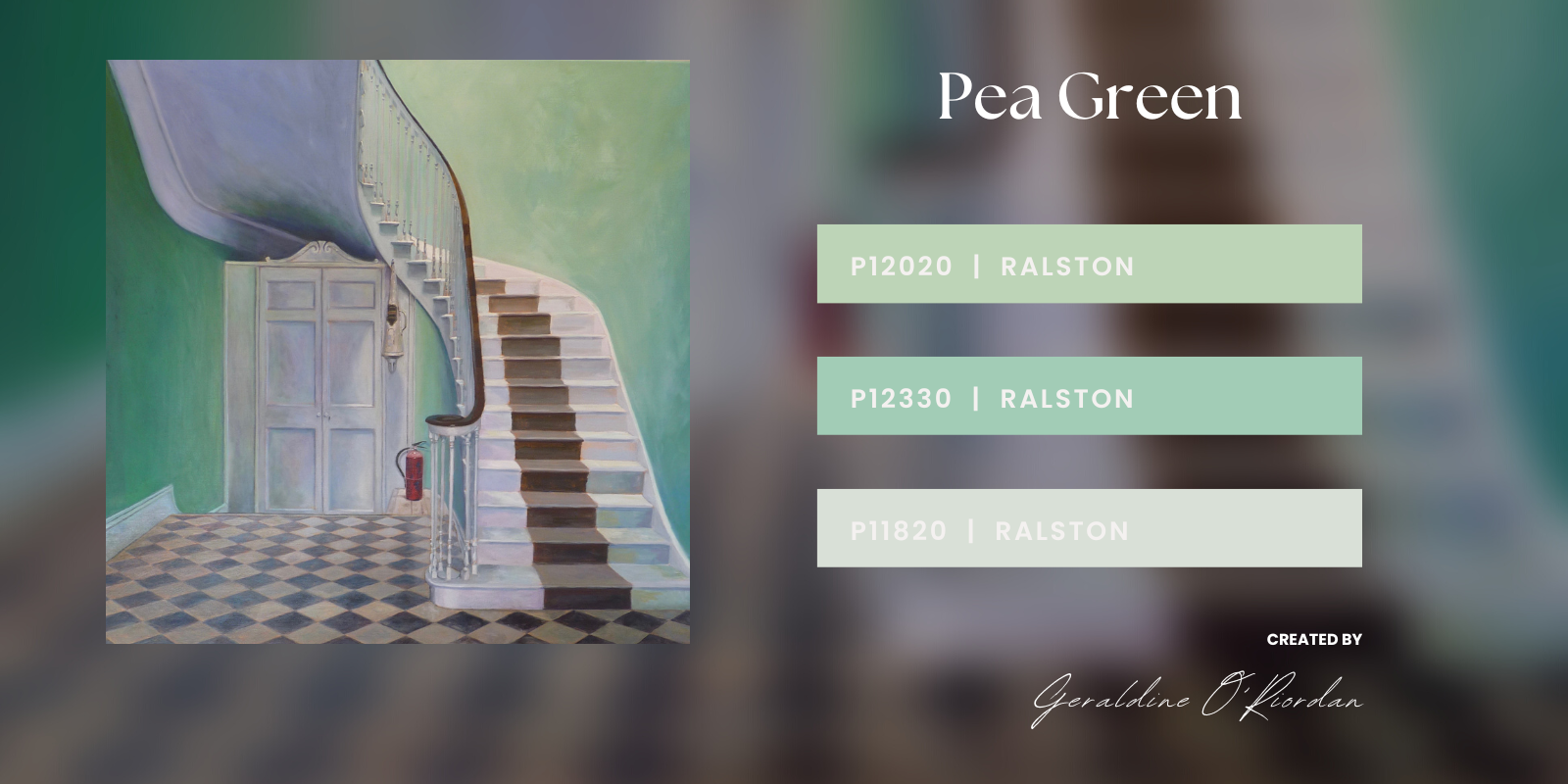 "For me, one of the most impressive aspects of this house is its superb staircase. The balusters are beautifully turned, and it features a delicate finely carved rail with a scrolled volute on the first step. It appeared like a wonderful stage set lit from above by its large lantern. Pea-green is a well-documented Georgian colour."
Featured Colours:
🎨 Ralston P12020
🎨 Ralston P12330
🎨 Ralston P11820
Aunt Prue - Hilton Park, Co. Monaghan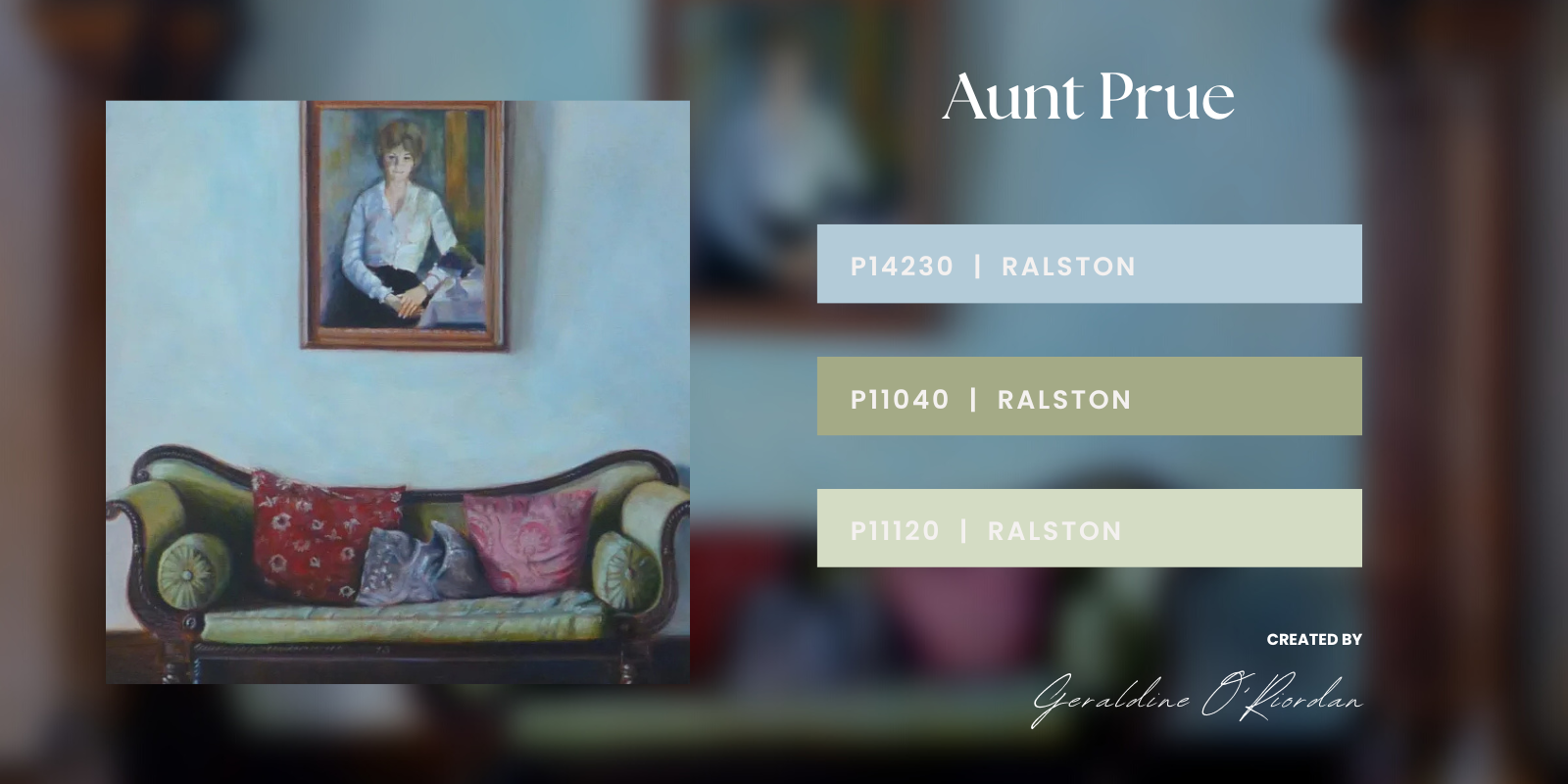 "The painting of Aunt Prue hangs in a false arch that has an elaborate mahogany surround with Corinthian fluted pilasters on each side. There is a hint of the sophisticated plaster frieze overhead. The placement of the portrait in the ballroom was alluring. The archway served as a secondary frame and the sofa added luxury and contrast.
My painting was a time-consuming process of wood graining, on a miniature scale! It was delightful to see the parquet floor emerging on the canvas with its geometrical border. This leads the viewer into the painting. The mahogany of the sofa gives a note of luxury along with green velvet upholstery and contrasting red cushions. The arrangement is beautifully balanced and a delight to the eye."
Featured Colours:
🎨 Ralston P14230
🎨 Ralston P11040
🎨 Ralston P11120
Turquoise Room - Hilton Park, Co. Monaghan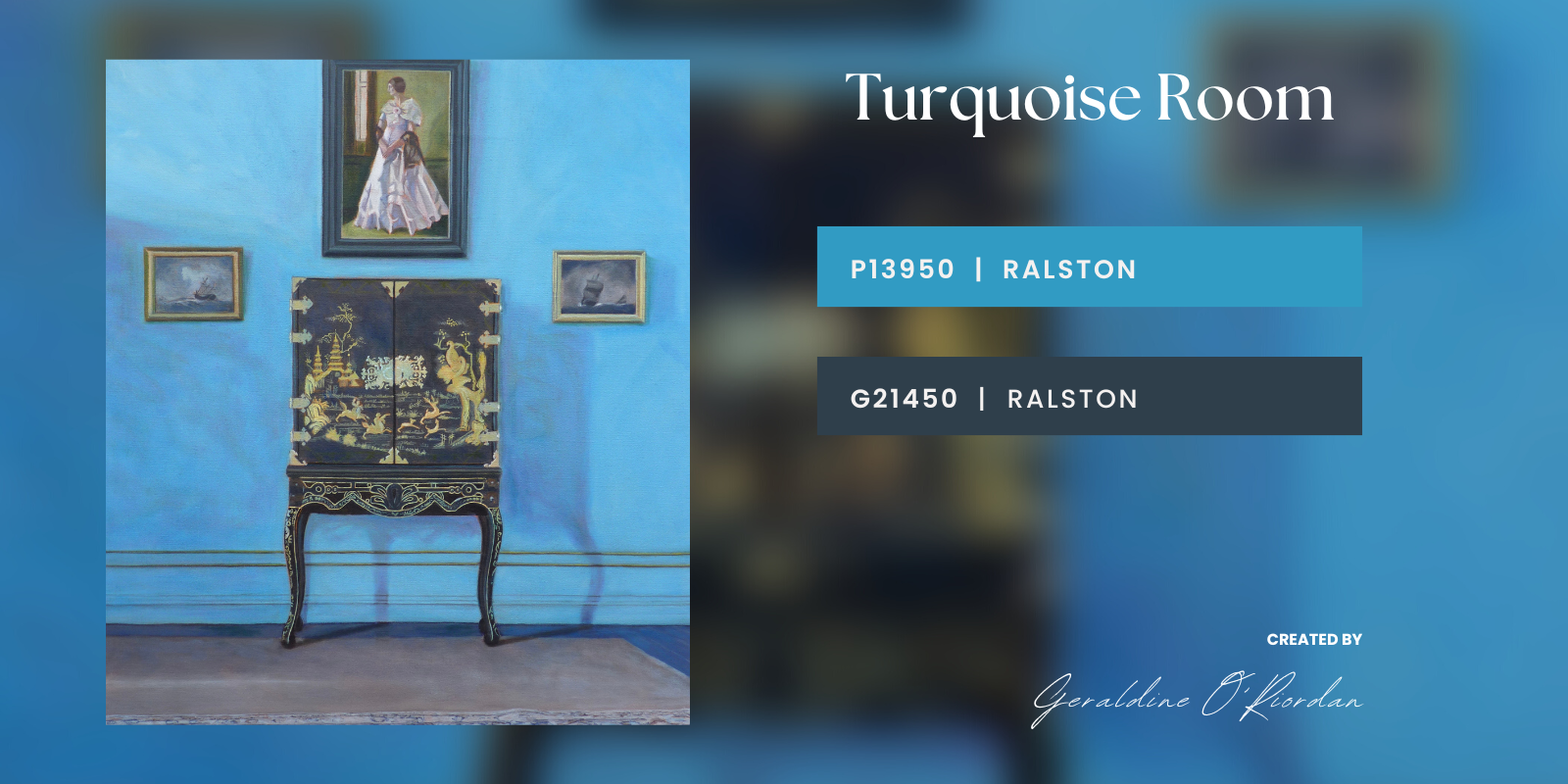 "This is a stunning turquoise room enhanced by gilded mouldings edging the walls and a double version on the tall skirting boards. Here the room is complimented by the fine Chinese cabinet and gilt-framed paintings.
This is an easy scheme to recreate in your own home. For example, you could use gold accents through brass light fittings, frames, antique gold rimmed China and braiding."
Featured Colours:
🎨 Ralston P13950
🎨 Ralston G21450
The Enduring Appeal of Georgian Interior Colour Schemes
In recent years, the Georgian era style has made a major comeback in modern interiors. Classic without being extravagant, the pared-back and structured beauty of the Georgian style works seamlessly with modern interiors. In fact, it is fairly easy to integrate elements of Georgian interior style into a modern home, as the colours were often elegant and simple, clean and not too strong. 
Spanning from 1714 to 1810, the Georgian era can be divided into four periods:
Early (1714–1750)
Middle (1750–1770)
Late (1770–1810)
Regency (1811–1837)
In the early period, interiors were still under the influence of the Baroque style which favoured dark, moody shades such as Pea-green and burgundy. These were typically painted with a soft sheen finish.
Georgian interiors are easily recognisable from their adoption of Neoclassical and Palladian styles. Both styles took inspiration from the principles of formal classical architecture from ancient Greek and Roman traditions which favoured order, symmetry and a lightness of touch. This style was seen as a dramatic move away from the flamboyant Baroque style that had come to dominate European interiors.
As the years went on, the Georgians began to favour a more muted, toned-down palette with light neutrals and delicate pastels coming to the fore. Popular colours included stone-white, pale grey, cream, sage green, mauve, rose and powder blue. There was also a move towards a dead matt finish. These colours were typically accented with beautiful gilding, ornate plasterwork, elegant marble, decorative wainscotting and panelling.
It is also worth noting that by the end of the eighteenth century, advances in manufacturing technology and increased affluence meant that Georgians had a greater choice when it came to paint colours. For many Georgians, this meant that interior colour schemes were determined by fashion trends and social status. 
Are You Painting a Period Home?
Many Irish period properties were originally built with breathable materials, and as such, require breathable paint. This not only helps them to stay in good condition but also helps to ward off dampness – a problem that is particularly prevalent in Ireland's wet climate.
If you are looking for top-quality breathable paint, we recommend Ralston Siloxane Matt. With an SD Value of 0.02m and MVTR of 807g, you can be sure of this paint's breathability credentials. Suitable for interiors and exteriors alike, Ralston Siloxane Matt can be applied to a wide range of surfaces including walls, ceilings, masonry, concrete and plasterwork. Not only will it provide a flawless finish, but it will also provide effective protection against the elements for long-lasting durability.
About Geraldine O'Riordan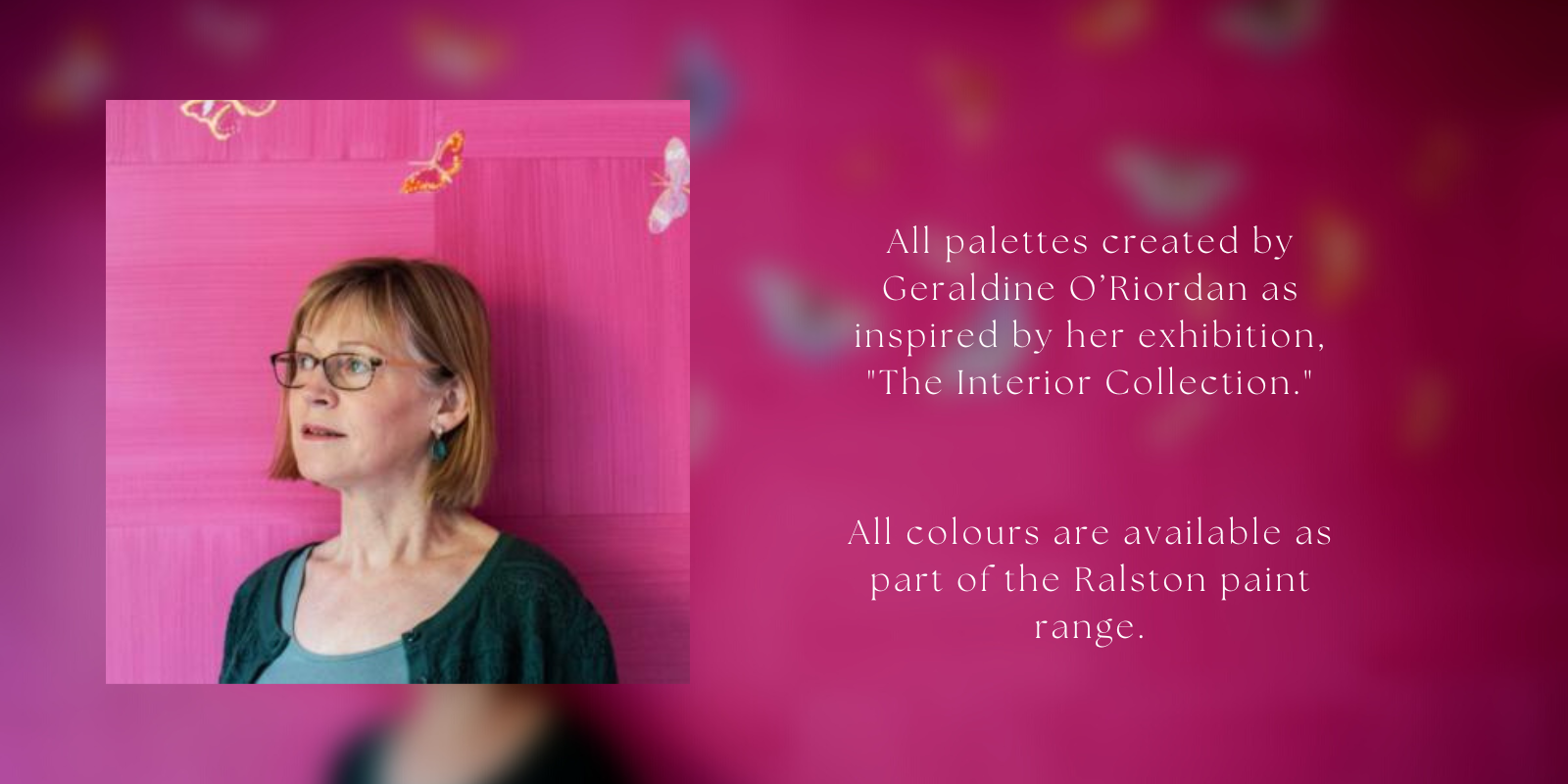 Geraldine O'Riordan attributes the Crawford Gallery as initiating her interest in historic buildings and their interiors. 
Subsequently, she set up her decorative painting business, 'Hand Painted Interiors'. While working on some of Ireland's most prestigious buildings, she gained a deep knowledge of the skilled crafts that were intrinsic to their creation and also an admiration for the private owners who care for this important aspect of our heritage.
She turned to full-time easel painting in 2005. She has since had many solo exhibitions at institutes such as the Cork City and County Archive, the Boole Library at University College Cork and at the Irish Georgian Society's City Assembly House, Dublin. 
You can learn more about the work of Geraldine O'Riordan on her website, www.geraldineoriordan.com.