What is the Dulux Colour of the Year?
For the past twenty years, Dulux has gathered a distinguished panel of architects, authors, cultural analysts, editors, designers, and technology innovators to name a Colour of the Year. The team make their decision by analysing colour forecasts, global design trends as well as the general public mood.
Previous Winners
Previous winners include Bright Skies (a light and airy blue) in 2022, Brave Ground (a warm, earthy neutral) in 2021, and Spiced Honey (a cosy amber shade) in 2019.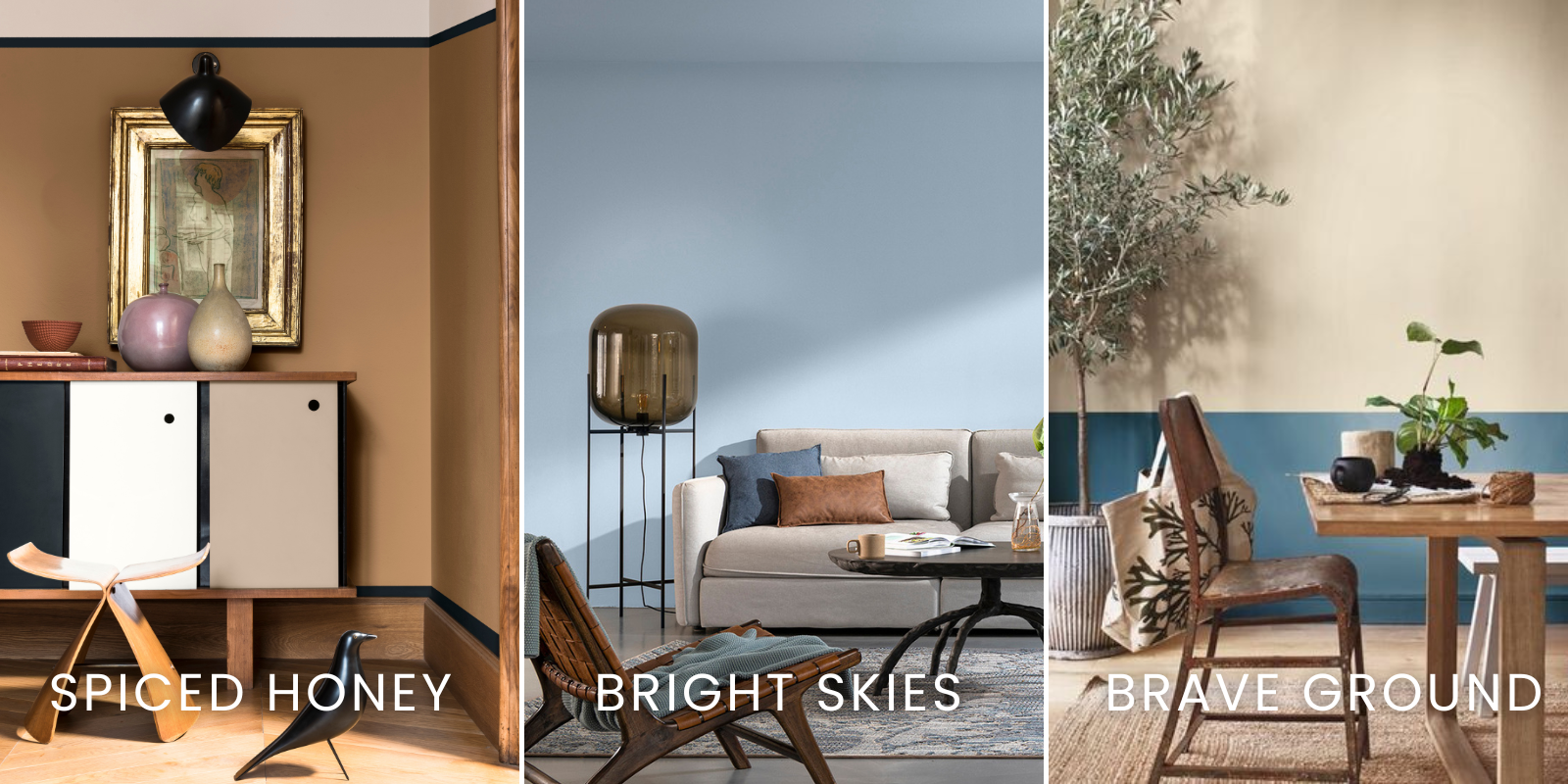 Introducing Dulux's 2023 Colour of the Year: Wild Wonder
The shade for 2023 is Wild Wonder – a glowing tone inspired by the warm tones of harvested crops. A gold barley shade with hints of green, Wild Wonder allows you to capture the magic of nature and bring it into your home.
Following on from the challenges and uncertainty of the past few years, more and more people are seeking grounding colours from the natural world that will bring greater comfort and positivity into their homes. Dulux has stated that this colour reflects the global shift towards sustainability and the growing desire to reconnect with the outdoors.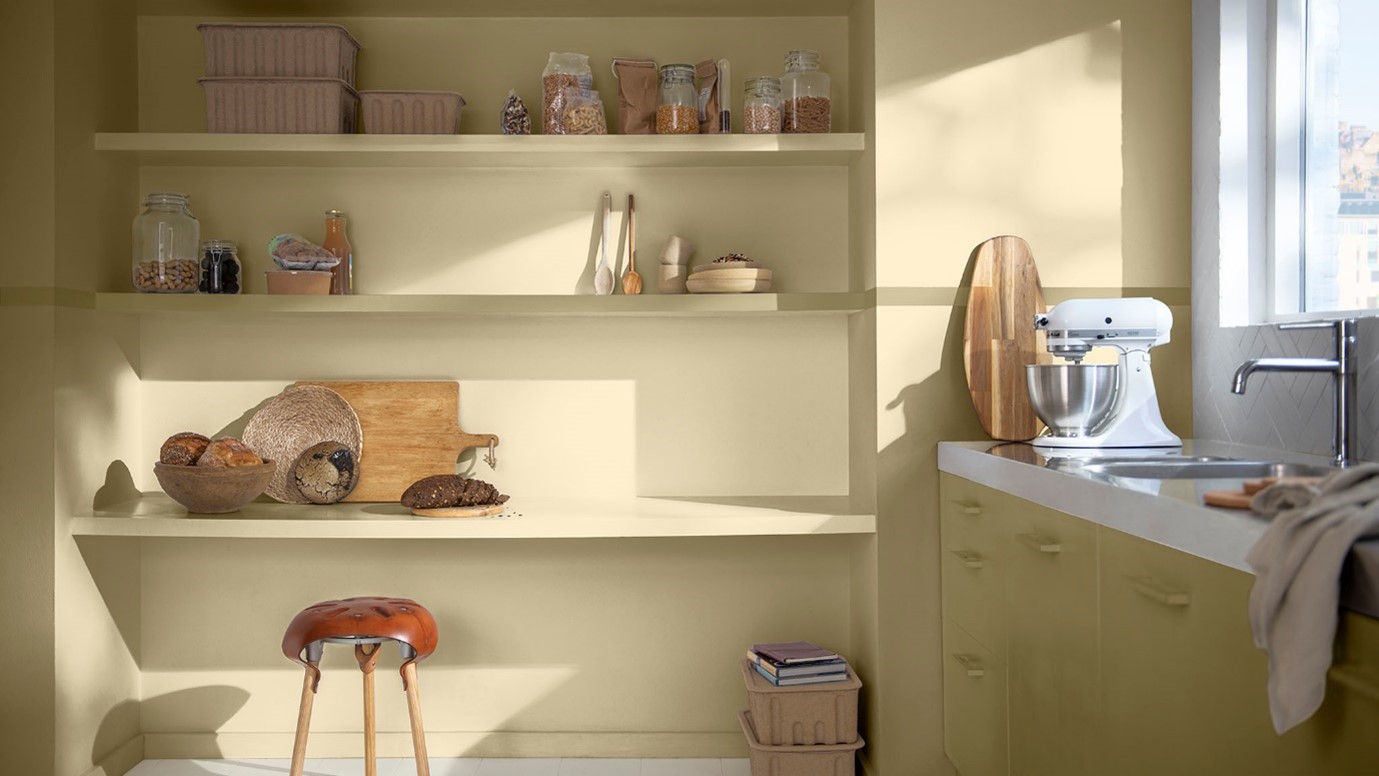 Building the Perfect Colour Palette Around Wild Wonder
To help homeowners design around Wild Wonder, Dulux has helpfully compiled four complimentary colour palettes that take inspiration from the natural world.
Palette #1: Raw
Inspired by mellow shades of the harvest, the "Raw" Palette combines earthy colours that bring out the natural warmth of Wild Wonder. The darker tones of this palette are an ideal choice for those who are looking for cosy colour combinations that will add a certain kind of rustic richness to a space.
Palette #2: Buzz
Designed to celebrate the bright and joyful colours of a wildflower meadow, the Buzz palette will introduce a sense of vibrance, positivity and energy to any room.
Palette #3: Flow
The Flow palette is made up of fluid seashore tones. When brought together, these colours can help achieve a sense of balance, tranquillity and timelessness in any space. 
Palette #4: Lush
The fourth and final palette, Lush, takes inspiration from the soothing greens and browns that can be found in gardens, forests and woodlands.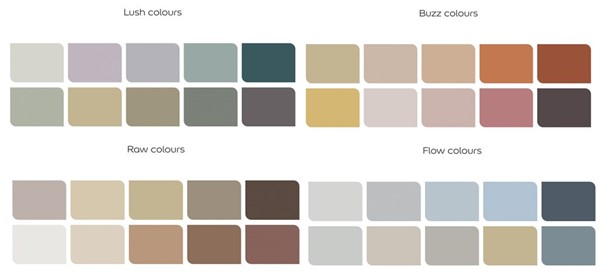 What Do Our Colour Consultants Say About 2023's Colour of the Year?
If you are interested in using Wild Wonder in your home but are unsure of how to get the most out of this beautiful colour, why not book a meeting with one of our expert Colour Consultants? Click here to find out more.
"Wild Wonder is a versatile colour that can be used throughout your interiors including hallways, kitchens, lounges and bedrooms. Pair with crisp whites such as Dulux Heritage Linnet White for sheer elegance or add contrast with Dulux Heritage Mauve Mist for a touch of luxury and warmth." – Marisa Comerford, Kilkenny
"Wild Wonder is a warm, mucky, earthy green... interesting! It will be a colour I will certainly use in Kilkenny interiors in the near future!" – Fiona Fennelly, Kilkenny

 
Shop Dulux Paints In-store or Online at Pat McDonnell Paints.