Pat McDonnell Paints Colour Consultants Colour Chooseday:
Here at Pat McDonnell Paints we know that decorating your home or business can become overwhelming at times and with so many choices in colours, brands and finishes, it can be daunting! That's why our colour consultants are here to help.
To help inspire you to think about which colours would work in your home Kadri, one of our colour consultants from Tralee, has shared her top four On Trend colours.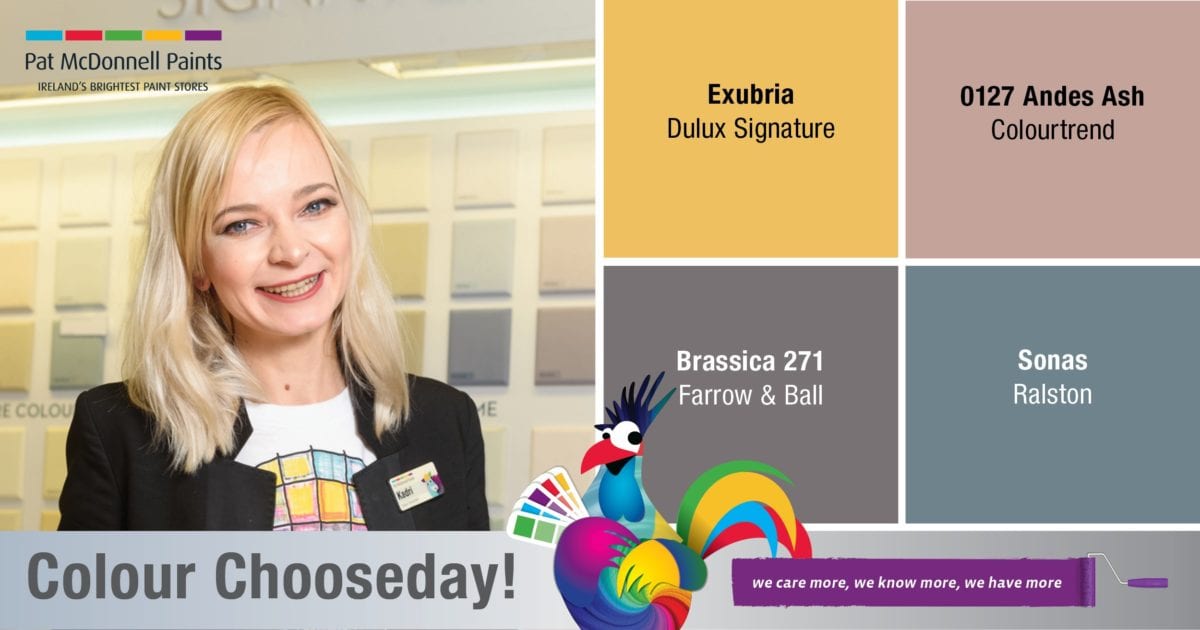 Sonas by Ralston– This rich blue grey will spice up a sitting room and introduces a sense of warmth and intimacy that is needed to pass the dark winter nights. Make sure to use plenty of ambience lighting to make the colour work well for your space.
Exurbia by Dulux Signature- It is all about gold, mustard and yellow this season. This beautiful yellow will bring life to a utility, bathroom or ideal for a playroom. Remember that colour helps to evoke emotion and yellow is associated with happiness and joy according to the colour psychology.
0127 Andes Ash by Colourtend- This blush pink is very versatile it can work well in the bedroom, kitchen or in a living room. The depth of colour makes it cozy and pleasant for the eyes.
Brassica no.271 by Farrow and Ball- This deep mauve hue is and ideal for any painted furniture. It will help to bring the outside in as the grey-purple will connect well with the grey Irish skies and the evergreen landscape.
Set up an appointment with an in store colour consultant at any of our seven stores – Our colour consultancy service is free although a fully-refundable deposit applies. All of our colour consultants are qualified interior designers, so you can be assured of creative and professional advice to help you. They will help you choose the perfect paint colours and the right paint finishes, wallpapers and accessories for your dream project! There is never a paint project that is too small or too big. Whatever you need, we are here to provide stylish options!